Wi-owner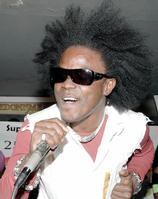 Ghost - File
Popular dancehall entertainer Carlton 'Ghost' Hylton was fined when he appeared in the Corporate Area Resident Magistrate's Court on Thursday to answer charges of possession of ganja.
Hylton was fined $100 or 10 days imprisonment after he pleaded guilty to the offence. His fingerprints were ordered taken.
However, the singer's attorney tried in vain to get the court not to have his client's fingerprints taken.
His attorney stated that once Hylton's fingerprints were taken, the convictions would be recorded for a specified period and this would in turn affect his prospects of travelling overseas.
Resident Magistrate Judith Pusey, however, declined the attorney's request as she explained that this was not the first time Hylton was coming before the court for such a charge.
RM Pusey said she was disgusted with the actions of some of the popular entertainers who seemed to believe they were above the law.