Wi-owner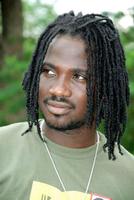 ( l - r ) I-Octane, Khago - Contributed
Singjay Khago has refused to comment on the rumours and speculations as to whether or not there is brewing tension between himself and I-Octane.
Over the past couple days there have been speculations that the two artiste are at odds since the release of Khago's song Blood A Boil, which seems to be some sort of counteraction to I-Octane's Nuh Ramp Wid Wi.
direct hit
In Nuh Ramp Wid Wi that was released in January on Cashflow's 'Bus Stop' rhythm, I-Octane said, "Nuh bwoy pon Earth can put dem hand inna mi natty/ Nuh bwoy caan draw mi locks when mi wash it and a flash it."
On Sunday, Khago's song surfaced on the Internet seeming to be a direct hit at I-Octane.
In his song he says, "Mi sure seh woman alone wash dem hair and flash it/ Mi a nuh sissy man a road/ Nuh bwoy caan dream see mi/ Anything mi put on a haffi fi mi/ Mi nuh beg fren from enemy/ Talk bout the chart tekka/ Mi nuh pay a cent fi dat/ Through all a dat mi still manage fi remain black mi nah run lef mi block."
Although it seems like the song was directed at I-Octane, Khago was rather silent on the issue.
"You know mi don't want talk bout dem ting deh though. A mix-up, nuh true," he said when contacted yesterday.
There was no comment coming from I-Octane either as the artiste is in the United States doing a series of shows.
However, his manager, Ray Alexander, said I-Octane will not be responding to the song. He also said he is not sure if the song is being directed at his artiste or Rastas in general.
ignorancy
"Di artiste not even responding to it 'cause there is nothing to respond to. To me is just ignorancy 'cause every Rasta flash dem locks fi get out di excess water," Alexander told THE STAR, noting that hair dryers damage the locks.
"I am not sure if it's Octane him going after 'cause every Rasta flash dem locks. To me it's an insult to every Rasta weh flash dem hair."
Meanwhile, the public has also been engaging in the discussion.
"Mi rate the two artistes dem enuh. Love the type a music dem usually sing but mi neva know seh dem did have problems with each other? The clash ting nuh good fi every artiste still enuh," one person commented on YouTube.
Another said, "Clash is good for dancehall, that's where dancehall came from. Good to be competitive, just keep it lyrical and non-violent."