Wi-owner
Tivoli host Waterhouse at Seaga Sports Complex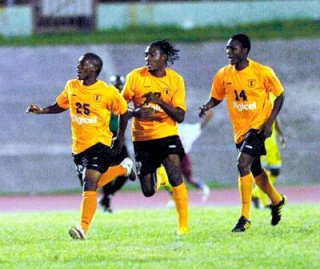 Tivoli's Keammar Daley (left) celebrates with teammates Jameel Thompson (centre) and Kemar Flemmings after scoring against Waterhouse in the Digicel Premier League First End-of-Round final at the National Stadium on November 7. Tivoli won 5-1. - file
The Edward Seaga Sports Complex in downtown Kingston will the venue today for one of the most eagerly awaited clashes in the 2010-11 Digicel Premier League.
First end-of-round finalists Tivoli Gardens and Waterhouse, who sit first and second in the 12-team table respectively will meet at 5:00 p.m. in the 19th round of the competition in one of six matches scheduled.
Tivoli hold the psychological advantage going into today's match. They hammered their opponents 5-1 in the first-end-of-round final. Waterhouse were a wounded unit at the time, as prior to the game they had lost the services of coach, Baris Johnson. Johnson has since returned after issues between himself and the club's management were settled.
Despite Johnson's return things are still not back to normal for the team which won eight of their 11 opening-round encounters. They have only managed two victories from seven second-round starts, with the latest coming on Sunday when they clipped Humble Lion 1-0, thanks to a diving header from Kevin Lamey.
early goal
Lamey and company will go in search of an early goal at the complex, as Tivoli have not been able to come from behind to earn even a point all season.
Waterhouse utilised a three-pronged attack in Sunday's encounter for the second time this season to great effect and according to Johnson this system might also be employed in today's game.
"We kind of employed it just to add a bit more in terms of option in attack," Johnson disclosed yesterday.
"Come tomorrow we might do the same but our emphasis for tomorrow is looking at how well we transition and have position of the ball.
"What happened in the past is the past and we are just looking forward to the game and going there to play one of our 'A' games to try and gain the three points," he added.
The Drewsland-based team got the better of Tivoli in their first-round league encounter 1-0 but this marked only their fifth league win over their rivals in their last 19 league meetings.
Alvin Shaw, coach of Tivoli, is, however, not focused on the history of results between the two teams.
"The past results will not have an effect on how we approach the game," Shaw said. "Despite those results, even the end-of-round-final, Waterhouse are still a quality team so you cannot underestimate them.
Leaders Tivoli, who have 36 points, two more than their opponents will also be looking to rebound from their 2-0 away loss to third Portmore United (33 points) on Sunday.
"Yes we are looking to bounce back, without a doubt," Shaw stated. "We went through the points standing and we know tomorrow's game is very important for us to maintain the lead," he added.
Today's games:
Humble Lion vs St Georges - Effortville Community Centre at 3:00 pm
Tivoli Gardens vs Waterhouse - Edward Seaga Complex at 5:00 pm
Arnett Gardens vs Benfica at Anthony Spaulding Complex at 5:30 pm
Village United vs Reno - Jarrett Park at 6:30pm
Portmore United vs Sporting Central - Ferdie Neita Park at 7:00 pm
Boys Town FC vs Harbour View FC at Anthony Spaulding Complex at 7:30 pm