Wi-owner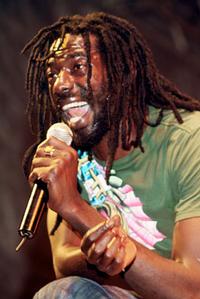 ( l - r ) Delly Ranx, Buju Banton - File
Less than a month after his release from prison, Buju Banton has already recorded a song called Things A Come Up.
The song was recorded on Sunday on Delly Ranx's 'Saudi Arabia' rhythm at Buju's home studio in Tamarac Florida. The rhythm also has songs from Delly Ranx, Wayne Wonder, Gramps Morgan, ZJ Liquid, Teflon and Froggy Madd Squad.
In the song Buju Banton, whose real name is Mark Myrie, speaks about politics, the defence forces, the economy and violence in Jamaica.
"Stop murder poor people legal and illegal/ It's not a show, who put Jamaica pon go slow/ No money nah run, a just pure blood a flow/ Light bill, water bill and none a dem caan owe/ Labourite, PNP, two a dem a joke," he sings.
The song's producer Delly Ranx said, "wi jus inna di studio and him jus seh 'unleash ranking' and the rest is history."
Working with his friend, who was incarcerated for almost a year, Delly Ranx said it was a joyful occasion.
"Mi just a hold a good vibe wid mi bredda weh mi nuh see in a long while. The vibe was off the chain. The spirit was high. It was an energetic moment," he told THE WEEKEND STAR.
"A mi bredda, anything a anything. Wi just mek music. Wi a show the world that Buju is still alive, he is not dead. Him doing a lot of musical work weh him can mek the people feel happy again."
While he is doing a lot of music, Delly Ranx said Buju misses Jamaica and the people.
"Right now, all him talk bout is how him miss Jamaica people bad. Him just waan go back a Jamaica. Mi just waan dem keep the Gargamel flag flying high," he said.
Buju Banton was granted bail under strict conditions in November after being in prison since last year. For months, he was on trial for conspiracy to possess with intent to distribute more than five kilograms of cocaine.
Meanwhile, Buju Banton received his fifth nomination in the 'Best Reggae Album' category for his new project, Before The Dawn that was recorded at his own Gargamel Music studio.
Released in September, Before The Dawn debuted at number 2 on Billboard's Reggae Albums chart and number 26 on the Mag's Heatseekers chart. Currently, the album is perched at number 1 on both the South Florida and the New York Top 20 Reggae Albums charts, number 1 on Richie B's Jamaica Music Countdown and number 4 on CMJ's World Music chart.
Banton was previously acknowledged by the Recording Academy for his albums Rasta Got Soul (2009), Too Bad (2007), Friends for Life (2004) and Inna Heights (1999).
News of his Grammy nomination comes off the heels of a federal court ruling by Judge James Moody that allows Banton, who is out on bail, to perform at an event in South Florida during Martin Luther King, Jr weekend. Produced by Rocker's Island, the 'Before The Dawn' concert, featuring Buju Banton and friends, will take place on Sunday, January 16, at the Bayfront Park Amphitheater in downtown Miami.