Wi-owner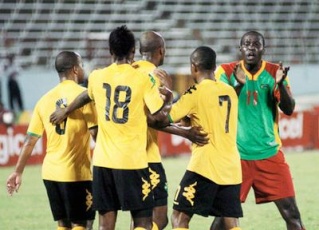 Reggae Boyz Jason Morrison, Luton Shelton and Dane Richards celebrate scoring against Grenada in the 2008 Digicel Cup Final. Jamaica who defeated Grenada to lift the tilte, will look to do so again in today's semi-final. - Ricardo Makyn
SAINTE-LUCE, Martinique:
JAMAICA'S Reggae Boyz are aiming to dance their way past Grenada's Spice Boyz when the teams clash today in the feature semi-final showdown of the Digicel Caribbean Cup, at the Pierre Aliker Stadium tonight at 8:30 (7:30 Jamaica time).
In the other semi-final, Cuba will tackle Guadeloupe at 5:30 (4:30 Jamaica time).
The Jamaicans won Group I in convincing fashion, beating Antigua and Barbuda 3-1, Guadeloupe 2-0 and Guyana 4-0, to take maximum nine points, finishing ahead of Guadeloupe, who earned four points from their win, draw, loss record.
Cuba won the other zone, Group H, after disposing of Trinidad and Tobago 2-0, Martinique 1-0 and finishing goalless against Grenada, the runners-up with five points after beating the Trinidadians 1-0 and tying 2-2 and 0-0 with the hosts and Cuba, respectively.
Though the pairings are different, the final four are no different from the last tournament when Jamaica went all the way to secure the title with a 2-1 win over Grenada, in the championship game at the National Stadium in Kingston in December 2008.
This time, Theodore Whitmore, coach of the Reggae Boyz, is bracing for a difficult challenge.
"We expect a tough game," he said.
"To be honest, any time the Jamaican team goes up against any team in the Caribbean it's gonna be a tough game and we have been preparing for this tournament for the past couple of weeks and I don't think it will be anything different come this Friday."
Key for the Jamaicans has been a deadly strike force, reflected in the nine goals that they have scored in three matches, while conceding one. None of the other semi-finalists have gone close, with Cuba and Grenada scoring three times.
Three players have accounted for two goals apiece, starting forwards Luton Shelton and Dane Richards, and St George's College schoolboy, Marvin Morgan Jr.
Morgan got his first run in the second half of Jamaica's last game, against Guyana on Wednesday night, when he registered his first and second goals for the country, in his fourth outing.
Pointing to the contribution off the bench, Whitmore noted: "It is a positive sign, going into the semi-final with all guns blazing, so I guess we are looking forward to Friday for a victory."
Adrian Reid, and fellow defensive member Eric Vernan, who is not a regular starter, have supplied proof of the team's all-round attacking strength by also scoring.
Whitmore will welcome back two influential players in his starting line-up, captain and sweeper, Shavar Thomas, and central midfielder, Rodolph Austin. Both were ruled out of their last game due to an accumulation of yellow cards.
Besides the duo, four additional first team players did not start in their last game, a 4-0 win over Guyana. In fact, half-time substitutions for 18-year-old schoolboys Morgan and defender Sergio Campbell, ensured that eight players outside the starting team finished the game.
Jamaica have won the tournament on four occasions, next to Trinidad and Tobago, with a tournament-leading eight titles. Two other countries have ever won the crown, Cuba and Haiti.
Grenada have been to the finals on two occasions, and also lost out in the semis in two additional tries. They are looking to break free from a Jamaican stranglehold, having lost to the Jamaicans in the crucial stages of the competition in the past couple of editions.
"We know Jamaica is a quality team, but we have a mission set from leaving home. We want to win the championship and if going through Jamaica will enable us to win the championship well so be it," said Anthony Modeste, the team's central defender and captain.