DRAGON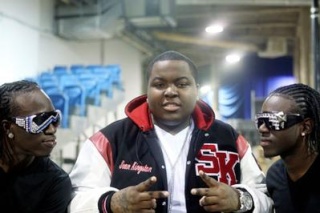 Unit Ravas (left) and Dave Ravas flank Sean Kingston. - Contributed
Things are looking bright for the Ravers Clavers dance group as two of its members have joined Sean Kingston and Justin Bieber on the 'My World' tour.
Renagi 'Unit Ravas' Hewitt and Donald 'Dave Ravas' Young are the two from the group who joined the tour as dancers in Sean Kingston's set last month. Speaking with THE STAR while travelling from San Diego, California, to Oklahoma for a show tomorrow (Wednesday), Unit Ravas, who is also known as 'Mungrel Ravas', said they have already done six of the scheduled 31 shows with Kingston. In each show, he said they dance in five of Sean Kingston's songs.
He explained that he and Dave Ravas were performing in Miami when Sean Kingston's brother, Kurt Kingston, saw them and asked them to join the tour.
"It's been great. It's a nice experience bringing reggae dancing to the international scene and I don't think it would have been possible without Ding Dong, so we have to give him a big shout-out for that," Unit Ravas said, while also giving 'shout-outs' to his mother and brother Johnny Bravo. Dave Ravers is also grateful for the new opportunity. "It's a good experience. I meet people like Justin Bieber, Jayden Smith, Birdman and the whole Young Money family. I have been to a lot of places in the US that I've never been to and it's fun," he told THE STAR. For the rest of the tour, Unit Ravas says he plans to show more energy and he is expecting a lot of fun.
"I hope everything goes well and that Jamaican reggae dancing can become more international," he said. "Every other dancer should keep working 'cause the gate is open and a lot of international artistes need dancers. One day it might be your time."
In addition, Unit Ravas said they will also appear in the Sean Kingston's music video for the single Party All Night that was shot on Sunday.


[Art is science made clear.]