DRAGON
Vybz Kartel - File
Reports by Tjenbé Rèd, the Afro-Caribbean association for the struggle against all forms of racism, homophobia and aids in France, are that deejay Vybz Kartel has signed the Reggae Compassionate Act which calls for the artiste to halt all anti-homophobic lyrics or statements.
News that the Stop Murder Music (SMM) France campaign received a signed copy of the RCA surfaced on the Internet a few weeks ago. A copy of the document, which has the artiste's name and what is alleged to be his signature, was placed on the site, www.tjenbered.fr. It is claimed that he signed the document on September 22.
Attempts by THE WEEKEND STAR to reach Kartel were unsuccessful as he was unavailable for comment.
According to a release on www.tjenbered.fr, "signing this Code of Practice is an example of real progress in the struggle against all forms of homophobia in Jamaica, France and the rest of the world. The SMM coalition has been waiting for this since 2004".
When contacted David Auerbach Chiffrin of the Tjenbé Rèd told THE WEEKEND STAR that they considered the signing to be a "courageous and noble act of solidarity between minorities".
minority
He added, "I think it was very courageous for him because I know for sure it is not proper for him in Jamaica to sign it. But it is the 21st century we have to move forward. We know very well what it is to be a minority in France and we cannot allow a minority, black people, to fight against another minority, gays."
In 2007, gay groups in the US and Europe drafted the Reggae Compassionate Act, which called on dancehall acts to be more tolerant to homosexuals.
For years, protests from gay activists have dogged the careers of Jamaican artistes internationally. Deejay Shabba Ranks experienced the backlash after responding to a question about Buju Banton's Boom Bye Bye. Buju himself has been plagued across the globe with banned concerts since doing that song, while others such as Beenie Man, TOK., Capleton, Sizzla and Elephant Man have experienced similar pressure.
Kartel performed at the Elysée-Montmartre in France in late September and according to the release on www.tjenbered.fr, attempts to stop the concert were being made by Ian Brossat, chair of the group of communist and Left Party elected representatives on Paris city council, counsellor for the 18th district, who had moved for a formal request to be sent to the capital's Prefect of Police asking him "to consider the risks to public order which might be provoked by" the singer's concert in the district.
It is alleged that after Kartel signed the Reggae Compassionate Act, the request was withdrawn in relation to this concert.
A concert which was to be held at the Elysée-Montmartre on Sept-ember 24 with reggae singer Sizzla Kalonji was subsequently cancelled due to efforts made by gay affiliates. The release added, "Vigilance is still required. Several performers of murder music have signed the RCA, then denied having signed it ... ."
According to Auerbach Chiffrin, they will be keeping on eye on Kartel to make sure he "respects his words".
copy of the sign deal :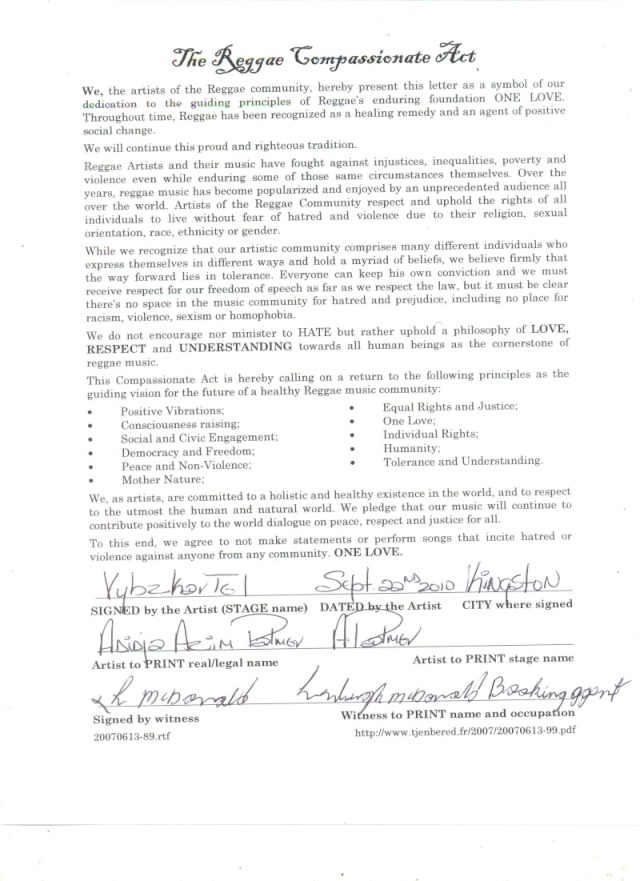 [Art is science made clear.]