DRAGON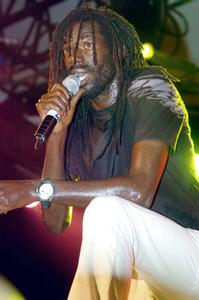 Buju Banton
As Jamaica reggae artiste Buju Banton awaits the jury's decision that will determine his future, fans and fellow entertainers have been pouring in their support for the incarcerated icon.
A federal jury is expected to convene today to make the 'not guilty' or 'guilty' decision on Banton's ongoing drug trial.
Banton, real name Mark Myrie, has been in police custody since December 10 last year when Federal agents removed him from his home in Tamarac, Florida. Since then the support for Buju Banton online has been immense.
On social-networking site Facebook.com, there are at least four 'Free Buju' groups with more than 6,000 supporters, while on Myspace.com there is also a page called 'Free Buju.' On Twitter.com, many persons have voiced their support for the artiste with 'freebuju' hastags. There is also a website called freebujubanton.com.
remaining positive
Speaking to a number of persons in the entertainment fraternity, its all well wishes for the singjay.
Deejay Spragga Benz says he is confident that Banton will be exonerated in his case. "I'm remaining positive. He shall be delivered. Mi confident 'cause mi talk to Buju and him seh him nuh guilty of weh dem charge him fa and deh so my loyalty deh," he told THE WEEKEND STAR, noting that they spoke about six weeks ago.
But Spragga's loyalty is even deeper, as he says Buju was responsible for him getting into music. He said, "A mi bredrin dat man. If a neva fi Buju mi wouldn't inna di business. A him teach mi how fi write a song. If it wasn't for Buju Banton, you wouldn't have a Spragga Benz."
Entertainment personality Miss Kitty also added, "I hope it works out for the best and for justice to be served, but not only to be served but it should be done undoubtedly. All the biases should be taken away and he should be tried not as an artiste but as a man. A justice mi a deal wid, as long as justice is done that's fine with me."
While deejay Wayne Marshall told THE WEEKEND STAR, "I wish him all the best and I hope the jury's decision is favourable to him."
Dancehall artiste Vybz Kartel tweeted in support of the artiste, and so did Aidonia who said, "free up mi idol, Mr Myrie."
Also on Twitter, deejay Delly Ranx was vocal about his support, saying that all lovers of dancehall and reggae music should pray for Banton. He tweeted yesterday, "thanks for all who pray last night, this morning, this afternoon for the voice of Jamaica Buju Banton. I need you all to continue do so, at this time please pray for the jurors to make a 'not guilty' verdict tomorrow (today). We love Buju Banton and he will be free."


[Art is science made clear.]