DRAGON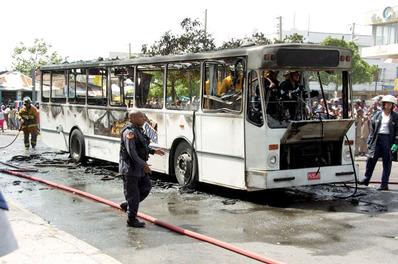 A policeman watches as firemen conduct cooling-down operations on a JUTC bus that was at fire on North Parade in downtown Kingston yesterday. No one was injured. - Ricardo Makyn
Six buses operated by the Jamaica Urban Transit Company (JUTC) have been damaged in the last 36 hours, raising concerns that this is part of a coordinated attack on the state-owned company.
One of the buses was destroyed by fire in downtown Kingston shortly after midday yesterday, but the cause of the fire has not been determined.
JUTC director of communications, Reginald Allen, said an attempt was made to set another bus on fire, while four others were stoned, all in the Barbican area of St Andrew between Wednesday night and early yesterday.
He said the stoning incidents have left two of the four buses with their front and rear windshields smashed.
At the time of the attacks, Allen said the buses were either empty or had few passengers.
He said there is no cause for commuters to be concerned, as the police have been notified and have put measures in place to ensure their safety.
"I have been out there and I have not seen anything to cause any unusual concern, he said.
Allen would not speculate on the cause of the attacks, which could cost thousands of dollars in repairs, but left little doubt that he believed they were coordinated. "The company has been adversely affected by aggression from unknown sources with undetermined motives," he asserted.
Reports are that the attacks may be linked to the killing of route taxi operator Leroy 'Pin Head' Berry of Allman Hill in Above Rocks, St Catherine, who was shot and killed by the police during an incident along Dumbarton Avenue, St Andrew, on Wednesday evening.
The Constabulary Communication Network, the police information arm, provided no details on the incident, but said the Bureau of Special Investigations is leading the probe.


[Art is science made clear.]