DRAGON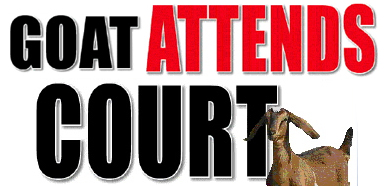 ❒ Owner brings animal as evidence

Friday will be an unforgettable day in the life of a goat.

The animal was brought by its owner to the Corporate Area Resident Magistrate's Court yesterday, as evidence that the weapon he had in his possession was needed to cut grass for the animal.

The owner of the goat, Raymond Barrett, later appeared before the court and advised Resident Magistrate Georgiana Fraser that he brought the goat as evidence in his matter which amused the court.

Barrett was charged with possession of an offensive weapon and possession of ganja.

Barrett explained to the court that he might have been incorrectly charged for having an offensive weapon , because he uses his knife as a tool to cut grass to feed his eight-month-old goat.

However, RM Fraser did not consider his explanation satisfactory as she concluded that it was not necessary to use a knife to feed a goat.

Barrett was fined $5,000 or 30 days for possession of an offensive weapon and $100 or 10 days for the ganja charge. He was also fined $4,000 court cost.

The goat was denied entry into the courtroom by police officers on duty at the entrance. Its appearance in the court yard of the Corporate Area Resident Magistrate's Court had everyone amused. The goat was still in the courtyard even after court had adjourned for the day.



[Art is science made clear.]