Wi-owner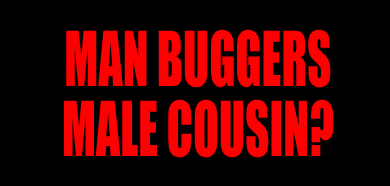 The police in Manchester are investigating the circumstances surrounding an incident involving a man who was allegedly buggered by his cousin.
Information gathered through the Constabulary Communication Network and police sources from the parish suggest that the incident occurred on August 8, in the Somerset community of the parish.
Investigators were reluctant in giving out the details of the incident, but say the complainant who is in his early 20s reported that he was taken into bushes against his will and buggered by his cousin.
A report was made to the Mandeville CIB.
"We can confirm that such a report was made but it is a very sensitive issue and we are investigating," a corporal said when THE STAR contacted the Mandeville CIB yesterday.
Meanwhile, word of the incident has reached the other sections of the parish and is being hotly discussed.
One male resident of Cross Keys when contacted by THE STAR said: "Mi hear 'bout it, yes, but mi neva believe. Mi all hear people from other area wid di same argument."