Wi-owner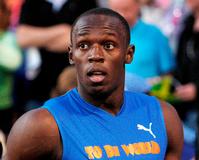 This is a Friday, August 6, 2010 file photo of Jamaican sprinter Usain Bolt during the Diamond League Athletics meeting in Stockholm, Sweden. Puma says Usain Bolt has become "the best paid athlete in track and field history", by agreeing to extend his contract with the German apparel company through 2013. - AP
KINGSTON, Jamaica, (CMC):
Jamaican sprint sensation Usain Bolt yesterday signed a lucrative multi-million endorsement deal with sportswear giants Puma, positioning the World and Olympic champion as one of the highest earners in world sport.
The 24-year-old is one of the most recognisable in world sport, following breathtaking world record feats in winning the 100 and 200 metres at the Beijing Olympics in 2008 and the World Championships in Berlin last year.
"Puma's been by my side since the beginning, before anyone knew what I was capable of achieving," said Bolt.
"They saw potential in me and they took a chance, supporting me all the way, especially when things weren't easy for me due to injuries I suffered in my teens.
"We've been partners in the truest sense of the word since day one, and so it's an easy decision to resign with them. Puma gets me; we fit together. They take the business of running seriously but we also know how to have fun, to be spontaneous. We both bring a lot of personality to the sport."
Bolt is reported to be very happy with his new contract. Although the terms have not been released, Puma chairman and CEO Jochen Zeitz said Bolt would be "the best paid athlete in track and field history."
lifestyle clothing
The deal is expected to run until the end of 2013 and will see Puma continue to outfit Bolt in training and lifestyle clothing and footwear.
Bolt will be in the forefront of the company's global marketing campaigns and will be key to their London 2012 Olympic programme.
"Usain Bolt has been a revelation for track and field athletics," said Jochen Zeitz, the chairman and CEO of Puma AG.
"He's shined a global spotlight on the sport. His winning personality and phenomenal physical prowess are a unique combination. The way he both engages his fans and is energised by them has helped his popularity escalate to extraordinary levels over the past two years."
Bolt has been aligned with Puma since his youth days when he became the world's fastest junior at age 16, in 2003.
And though speculation was rife that Bolt would have maybe parted ways with the brand after his huge success at the Beijing Olympics, the Jamaican remained put, placing the brand on show when he dominated last year's World Championships in Berlin.
"Usain has been a tremendous force for the Puma brand. He embodies the joy, playfulness and irreverence that are the cornerstone of our brand," Zeitz pointed out.
"His Lightning Bolt 'To Di World' pose from the Beijing Games in 2008 is now one of the most recognisable symbols in sport. He's obviously a lot of fun to work with.
"From a performance standpoint, he has reset the bar for speed on the track, and we're not sure he's even hit his top gear yet. It's going to be an exciting few years ahead and we're thrilled to be along for the ride."
Bolt recently called a premature end to his 2010 season after sustaining a back injury, following his first loss in two years at the DN Galan in Stockholm earlier this month.
He is the Laureus World Sportsman of the Year for 2009 and 2010.