Wi-owner
These girls were happy to dress in the national colours at the Independence Day parade yesterday. - Norman Grindley
Jamaican pride was on full display yesterday as hundreds of black, gold, and green-clad, flag waving Jamaicans marched through the streets of the Corporate Area celebrating the country's 48th anniversary of independence.
"It's a great sense of pride just being out here celebrating our independence and seeing our culture on display," beamed Verna Wells, as she watched the floats make their way down Tom Redcam Avenue.
"Our people have struggled through colonialism, and here we are as an independent country. We have achieved a lot," she added.
Those sentiments were echoed by Clive Pink, who took his family, including 13-year-old son, Nikolai, to watch the parade.
Pink said he was especially proud to see the many cultural displays because "this is one of the main things that make it look like an independence celebration". Nikolai, a student of Calabar High School, said he was happy to see the parade of classic cars and bikes, but said he "felt good to know that Jamaica is an independent country".
waved their flags
The bright mid-day sun and the accompanying heat did little to damper the mood as young, old and middle-aged waved their flags and danced to the pulsating rhythms coming from the float trucks and the marching bands.
"This is more exciting because in '62 (the year Jamaica got independence) we were just starting out, so we didn't understand too much," said Mama P, an elderly woman from St Catherine, who said she witnessed the first Independence Day celebration.
Resting on a wall along Tom Red-cam Avenue, 'Mama P', who said she participated in several Independence Day parades, was happy to see the number of young people participating in the festivities.
She said this would give them a better understanding of their culture.
Dancing and singing beside 'Mama P', Sarah Fagan said Independence Day was one of the best holidays.
high spirits
"Jamaica is still one of the best countries. We still have high spirits. It's great," Fagan told THE STAR.
Except for routine cases of dehydration and headaches, volunteers from the Ministry of Health reported no major problems.
In addition, Deputy Superintendent Hornet Williams told THE STAR that everything was calm throughout the day as "people were just enjoying themselves".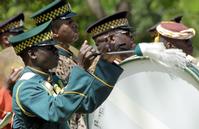 Uniformed groups participating in the march past at the Independence Day Ceremony at Kings House on Friday. - Ricardo Makyn