Wi-owner
Harbour View's Lamar Hodges dribbles away from Boys' Town defenders Anthony Bennett (left) and Troy Dawes during the Claro Champions League at the Harbour View Mini Stadium yesterday. Harbour View won the game 1-0. - Ian Allen
A second-half strike from substitute Ranique Muir was enough to give Harbour View the 2010 Claro-KSAFA Champions League title after their hard-fought 1-0 beating of Boys' Town in the final at the Anthony Spaulding Sports Complex last night.
Muir beat Boys' Town goalkeeper Kirk Porter to a forward pass before dispatching his shot into the back of the net to break the Red Brigades' hearts and pocket $250,000 for the east Kingston-based team. Boys' Town walked away with $100,000 for their efforts.
satisfied
Winning coach Donovan Hayles was satisfied with his team's performance and the triumph. "I'm satisfied, I think both teams can be satisfied with their play tonight," said Hayles.
"Boys' Town started stronger but then we consolidated. Defensively, we did very well and, all in all, we were stronger even though the game could have gone either way."
Boys' Town's Andrew Price thought his team gave a fair effort but suffered from fatigue.
"We dominated for long periods but I think the guys were a little leg-weary tonight. We just started training, so the condition is not where it needs to be. We weren't effective on the ball and this is where we lost the game," said Price.
Meanwhile, last year's winners Waterhouse benefited from two own goals to beat Cavalier to third-place by a 2-0 margin. They also walked away with the $100,000 third place cash prize, while Cavalier earned $50,000 themselves.
tentative start
In the big one, both teams took their time to get settled after a tentative start, but after the opening jitters, it was Boys' Town who were looking the more dangerous of the two Premier League heavyweights.
Harbour View worked their way into the contest and should have opened the scoring at the half-hour mark but Rafeik Thomas and Marcelino Blackburn ran into each other at the back post and killed the chance for a simple tap in.
Thomas was at it again seven minutes later when he failed to get the better of Porter in the Boys' Town goal after being played behind the defensive line. The striker must have been surprised to find himself with only Porter to beat but could find no way around the keeper after he tried to dribble instead of taking a shot on goal. Substitute Mark Newsome's tame left-foot shot from the top of the box was saved off the line by Montrose Phinn in the 60th minute in what was Boys' Town's last real chance of the game.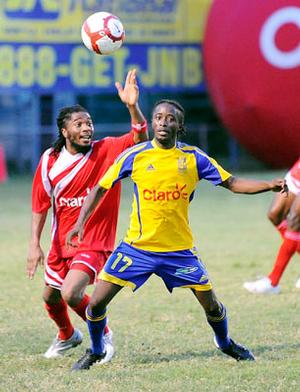 Harbour View's Rafeik Thomas gets in position, in anticipation of the ball, ahead of Boys' Town's Romando Johnson during the final of the Claro-KSAFA Champions League at the Anthony Spaulding Sports Complex last night. Harbour View won 1-0. - Ian Allen